Tuna and Broccoli Pasta Bake
Made With Condensed Celery Soup
Always a crowd pleaser, whip up this comforting dish using store cupboard ingredients in a matter of minutes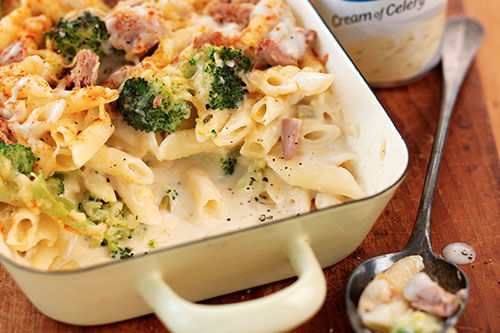 Ingredients
300g penne pasta or other pasta shape
1 large head broccoli, about 400g, cut into small florets
185g can tuna in brine, drained
1 Can Campbell's Condensed Cream of Celery Soup
300ml/� pint semi skimmed milk (or water)
150g mature cheddar cheese, coarsely grated
Large pinch cayenne pepper (optional)
---
Method
Step 1

Preheat the oven to 200C/fan oven 180C/Gas mark 6.

Step 2

Cook the pasta in a pan of lightly salted boiling water for 8-9 minutes. Stir in the broccoli and cook for a further 2-3 minutes until the broccoli is just tender. Drain well and return to the warm pan.

Step 3

Mix together the Campbell's Condensed Cream of Celery Soup, milk or water and 125g of the cheese until well combined and stir into the pasta. Tip into a medium sized ovenproof dish.

Step 4

Flake the tuna with a fork and scatter over the pasta, pressing into the pasta slightly so as not to break up the tuna too much. Scatter over the remaining cheese and a pinch of cayenne pepper (if using) and bake for 15 minutes.

Step 5

This is now ready to serve.

Step 6

Cook's tip: Tuna works really well with this recipe however try using tinned salmon, crab or even chopped cooked ham or corned beef.
Rate this recipe
Last Rated: 22 - 11 - 2023
---
Share This Recipe: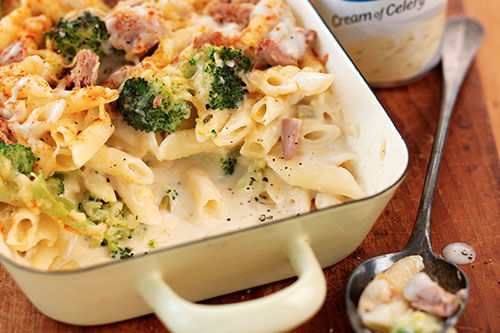 ---
Chef's Corner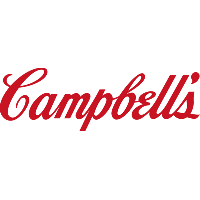 Campbell's Original
The World's Most Iconic Soup Brand
www.campbellsoup.co.uk