Breast of Chicken with Tomatoes, Onions and Basil, Topped with Melting Cheese
Made With Condensed Tomato Soup
A delectable yet wonderfully simple cheesy chicken recipe that makes fantastic use of our Condensed Tomato Soup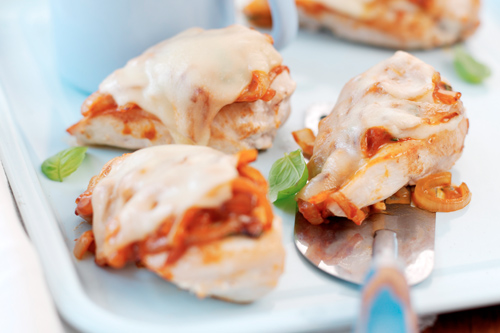 Ingredients
4 chicken breasts
1 tbsp olive oil
2 medium onions, sliced
A generous handful of picked basil leaves, chopped
Olive oil
1/2 295g can Campbell's Condensed Cream of Tomato Soup
4 slices of Swiss gruyere cheese (can be substituted for another cheese)
Salt and pepper
For the sauce:
1/2 295g can Campbell's Cream of Condensed Tomato Soup
1 tbsp of olive oil
Chopped basil leaves
Water to loosen, if needed
---
Method
Step 1

Heat a little cooking oil in a large frying pan.

Step 2

Season the chicken breasts and fry over a medium heat for 7-8 minutes on each side, leaving a moist centre in the breasts.

Step 3

Meanwhile, in another saucepan, fry the sliced onions in olive oil until softened, allowing them to lightly colour.

Step 4

Add the 1/2 can of Campbell's Condensed Cream of Tomato Soup to the onions and bring to a gentle simmer, allowing the soup to thicken. Season with salt and pepper.

Step 5

To make the sauce, whisk the remaining 1/2 can of Campbell's Condensed Cream of Tomato Soup with a little water to loosen and heat. Season if needed, stir in the chopped basil leaves and a splash or two of olive oil.

Step 6

Place the chicken breasts on a baking tray, topping each with the tomato, basil and onions mixture.

Step 7

Place a slice of the Swiss cheese on top of each, allowing it to warm under a pre-heated grill until it begins to melt.

Step 8

The tomato, onion, basil and melted cheese topped chicken breasts are now ready to serve with the rich tomato basil sauce.
Rate this recipe
Last Rated: 23 - 11 - 2023
---
Share This Recipe: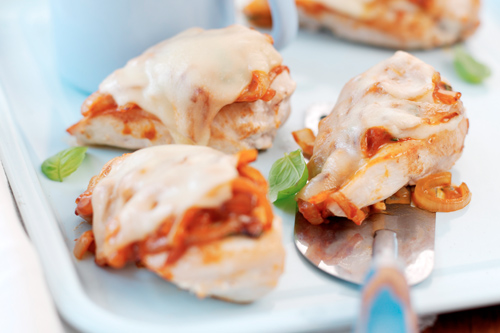 ---
Chef's Corner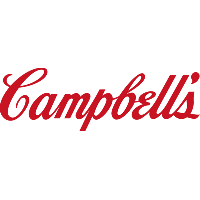 Campbell's Original
The World's Most Iconic Soup Brand
www.campbellsoup.co.uk