Roast Breast of Chicken with Mushroom Sauce
Made With Condensed Mushroom Soup
This Chicken with Mushroom Sauce recipe is a perfect yet simple dish to liven up your midweek suppers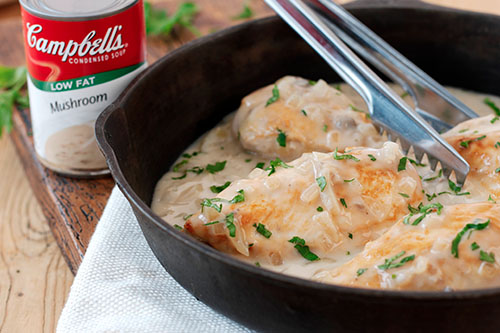 Ingredients
4 large chicken breasts
Salt and pepper
Vegetable oil for cooking
A knob of butter
1 small onion, finely chopped
1 can Campbell's Condensed Cream of Mushroom Soup
1 tbsp chopped flat leaf parsley
---
Method
Step 1

Season the chicken breasts with salt and pepper and place them skin side down in a pre-heated frying pan.

Step 2

Fry on each side over a medium heat for 7-8 minutes until well coloured or until firm to the touch, maintaining a moist centre to each.

Step 3

Remove the breasts from the pan and keep warm.

Step 4

Add the onions to the pan, frying for a few minutes.

Step 5

Pour in the Campbell's Condensed Cream of Mushroom Soup, and return to a simmer, cooking the sauce for a few more minutes, loosening with a little water if needed.

Step 6

Season the sauce and add the parsley.

Step 7

Pop the chicken breasts back in the pan along with any juices and the dish is ready to serve.

Step 8

Note: A squeeze of lemon and a tablespoon of crème fraiche can be added to the finished sauce, if available.
Rate this recipe
Last Rated: 28 - 11 - 2023
---
Share This Recipe: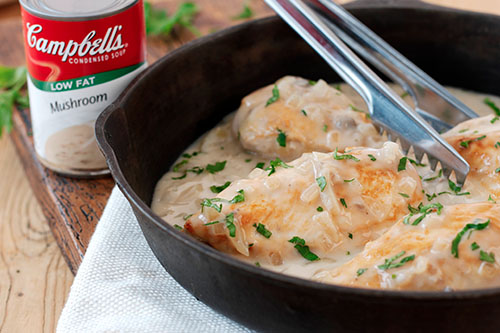 ---
Chef's Corner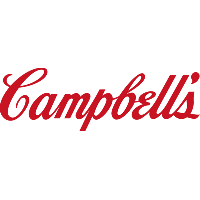 Campbell's Original
The World's Most Iconic Soup Brand
www.campbellsoup.co.uk