Julieanna's Gammon Dinner
Made With Condensed Chicken Soup
Use lots of potatoes as it's even tastier the next day and you could use sausages or any meat you like for another meal the next day.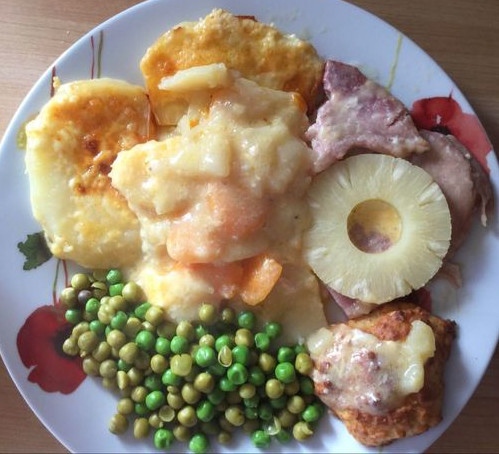 Ingredients
1 can of Campbell's condensed chicken soup
A can of water
2 onions, sliced
3 carrots (or however many you like), sliced
4 gammon steaks.
Potato's, I use Maris Piper, sliced to about the same thickness as your gammon
Black pepper.
Cheese of your choice, cheddar, Cheshire etc
1 can of 4 pineapple slices in own juice
Peas to serve
Cheese scone, puff pastry, pie crust, optional
---
Method
Step 1

Preheat the oven to 180 degrees, fan assisted.

Step 2

In a large casserole dish pour in the soup mixed well with the water

Step 3

Season with the black pepper

Step 4

Layer the sliced onions then the carrots

Step 5

Add a layer of potato then top with gammon steaks followed by a final layer of potatoes

Step 6

Cover and pop into the oven for about an hour, then check that it's not too dry if it adds some hot water until it's a consistency that you like

Step 7

Add the pineapple juice at this point. Put it back into the oven for a further 20/30 minutes until gammon and potatoes are thoroughly cooked

Step 8

Uncover the casserole and cover the top layer of potatoes with the cheese and pineapple. Put back into the oven until cheese is melted and bubbling. Serve with peas of your choice.
Rate this recipe
Last Rated: 25 - 10 - 2023
---
Share This Recipe: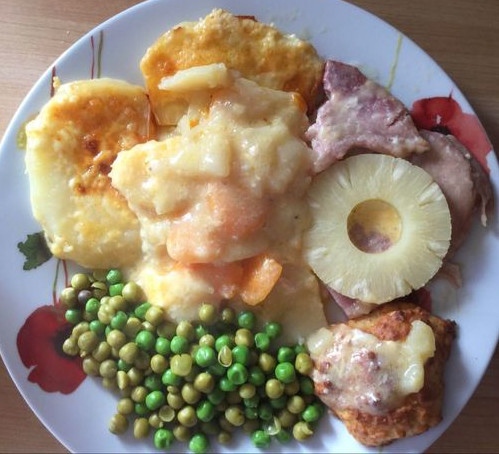 ---