Creamy Chicken Succotash
Made With Condensed Chicken Soup
Popular in the USA, succotash is a cheap and wholesome dish. Why not try our delicious and simple Chicken Succotash recipe?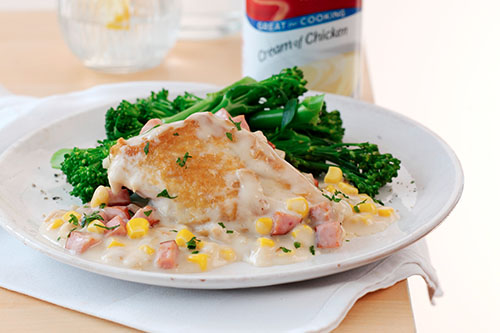 Ingredients
1 tbsp olive oil
2 knobs of butter
4 chicken breasts, skin on
175g smoked pork sausage, diced
1 large onion, finely chopped
2 garlic cloves, crushed (optional)
1 295g can Campbell's Condensed Cream of Chicken Soup
300ml / 1/2 pint semi-skimmed milk (or water)
1 can sweetcorn kernels, drained
Small handful fresh chopped flatleaf parsley (optional)
Steamed broccoli to serve
---
Method
Step 1

Heat the oil in a large non-stick frying pan and fry the chicken skin-side down over a medium heat for 5-6 minutes until golden brown

Step 2

Turn the chicken over and scatter in the smoked sausage. Cook for a further 6-8 minutes until lightly browned. Lift everything out and drain on kitchen paper

Step 3

Wipe out the frying pan with kitchen paper. Add the butter and melt until foaming

Step 4

Stir in the onion and cook for 4-5 minutes, stirring until they start to soften

Step 5

If using garlic, stir it in and cook for a further 1-2 minutes

Step 6

Add the Campbell's Condensed Cream of Chicken Soup and the milk, stirring well until smooth

Step 7

Tip in the sweetcorn and return the chicken and sausage to the pan. Boil for 10-12 minutes

Step 8

Season to taste and scatter with the chopped parsley, if using

Step 9

This is now ready to serve while still hot, with steamed tender stem broccoli
Cook's tip
Milk will make your sauce a little richer and creamier however you can use just water instead. If you don't have smoked pork sausage, simply skin ordinary sausages, pinch into small pieces and use as above.
Rate this recipe
Last Rated: 20 - 09 - 2023
---
Share This Recipe: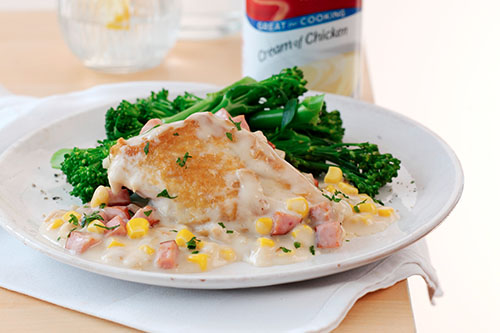 ---
Chef's Corner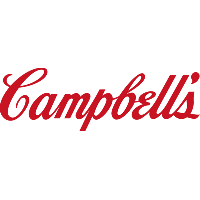 Campbell's Original
The World's Most Iconic Soup Brand
www.campbellsoup.co.uk