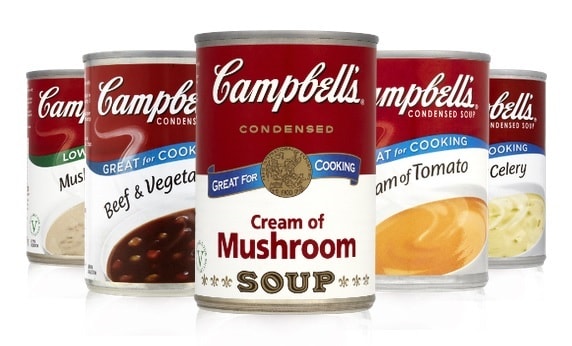 For many, nothing beats tucking into a warm bowl of soup. Come rain or shine, soup is a quick and easy meal that is just as filling as it is satisfying – guaranteed to make even the most unsuspecting person 'mmm' in delight.
Here at Campbell's our range of delicious condensed soups have been a firm favourite among soup lovers for decades. As well as proving a hit on their own, our soups have also gained steam with savvy cooks as recipe enhancers.
If you'd like to find out more, take a look at our guide below to five fantastic ways to eat condensed soup:
Match Made in Marinade
Marinating food is a great way to intensify flavour and create your own blends. Using one of our trusty condensed soups to marinate meats and poultry will give your food a delicious kick in one simple splash. We recommend trying our hearty Beef Stroganoff recipe.
Get Saucy
The versatility of soup is unrivalled when it comes to pasta dishes. Forget specialised pasta sauces, condensed soups are rich and thick enough to make a scrumptious Bolognese or pasta bake that will satisfy the whole family. Take a look at our popular Creamy Pesto Chicken Pasta recipe for inspiration.
Dippin' and Dunkin'
A warm bowl of condensed soup is the perfect dipping delight for a whole host of nibbles and treats. From crackers and tortilla crisps, to pitta bread and breadsticks – there's very little a condensed soup can't compliment. Whip up a bowl for a BBQ bash or serve with a starter at a dinner party.
Stew in Few
Fancy a comforting casserole dish without having to spend ages on preparation and cooking? Condensed soup is all you need to give this classic recipe a new and improved twist, and for a fraction of the time it usually takes. Check out our delicious 20 minute Cheesy Vegetable Casserole.
Curry in a Hurry
Curry is another dish that involves a lot of food prep and cooking, which is often the last thing you want to do at the end of a busy day. Having a trusty can of condensed soup to hand is just the ticket to a quick and easy curry with all the flavour and texture of traditional curries. Our Chicken Curry Delight recipe is guaranteed to make you smile.
For more condensed soup cooking ideas, check out our complete recipes section where you'll find heaps of soup-spiration.