Campbell's Soup History
For soup lovers worldwide, Campbell's Soup is a firm favourite – offering delicious, creamy goodness in every single can. Since the Campbell Soup Company began over 100 years ago, it has grown to become one of the most iconic soup brands on our supermarket shelves. Keep reading as we take you on a journey through the history of Campbell's Soup.
How Old is Campbell's Soup? The Campbell's Soup Condensed Timeline
1869
The origins of the Campbell Soup Company lie in 19th Century America, when fruit merchant, Joseph A Campbell partnered up with icebox manufacturer Abraham Anderson to form the Joseph A Campbell Preserve Company. For over 20 years, the company supplied high quality canned tomatoes and vegetables, soups, jellies, condiments and minced meats. However, this all changed in 1897 when the company's manager, Arthur Dorrance, reluctantly hired his nephew to join the team.
1895
The first can of ready-to-eat soup, Beefsteak Tomato, is introduced. New Jersey Beefsteak tomatoes was Campbell's key product for many years, and was a natural choice for the first soup flavour.
1897
As it happened, the arrival of Dr John T. Dorrence – a chemist – was to change the history of Campbell's forever. By eliminating water in canned soup, Dorrence invented Campbell's famous condensed  variety. This resulted in lower packaging, shipping and storage costs and made it possible for people to buy a 290g can of soup for just a dime!
1898
The original labels for Campbell's condensed tomato soup line were actually orange and blue, but this all changed in 1898 when the company's treasurer, Herberton L. Williams, thought a red and white scheme would be more fitting. It's believed his idea was inspired by the striking image of Cornell football team's red and white uniform.
1898 – 1900
The famous medallion featured on the packaging of Campbell's condensed soup existed in many different versions over this period. The final and most recognisable version is modelled on the medal the company received at the Paris Exposition Universelle in 1900 as a symbol of excellence.
Did you know? The classic Campbell's Condensed Soup script is thought to be founder, Joseph Campbell's, own signature.
1913
Campbell's Cream of Celery Soup is introduced.
1914
Dr. John T. Dorrence, inventor of Campbell's condensed soup, becomes president of the company. He leads the company until his death in 1930.
1916
In the early 20th century, people began recognising the benefits of using condensed soup in their recipes – thanks in part to the cookbook 'Helps for the Hostess', published in 1916. Famous Campbell's Condensed Soup recipes such as the 'Green Bean Casserole', and Glorified Chicken originate from this period and continue to be popular choices for family meals today.
1922
By the 20th century, the popularity of Campbell's condensed soups was so great, the company decided to adopt 'Soup' as its middle name.
1934
Campbell's Cream of Mushroom and Chicken Noodle hit the shelves.
1941
Campbell's open their test kitchens within their factories. Professionally trained kitchen staff start creating recipes using condensed soup varieties to increase their popularity and encourage uptake. It also helps to pioneer new flavours.
1948
Campbell's Soup company acquire V8, founded by W.G Peacock in Evanston, Illinois. V8 was bought in to replace Campbell's existing tomato juice with a higher quality product, and today, V8 is the leading vegetable juice in America.
1950
The first Campbell television adverts air in the USA, and the company goes on to sponsor popular TV shows, Lassie and Peter Pan.
1962
Artist Andy Warhol famously used the red and white Campbell's Soup packaging design to create a series of 32 pop art silkscreened paintings – each representing a flavour from the brand's condensed soup line.
1994
Campbell's celebrates its 125th anniversary. Worldwide, more than 100 cans of its flagship line are purchased every second.
1997
Campbell's celebrates 100 years of condensed soup!

2011
Campbell's launch 'Campbell's Healthy Communities', a 10-year, $10-million commitment to improve the health of young people around the company's US headquarters in Camden, New Jersey. The program focuses on four areas that Campbell's prioritise and believe to be good foundations for life food access; physical activity; nutrition education; and public will.
2012
Campbell's launch a limited-edition series of cans of Campbell's Condensed Tomato Soup with Andy Warhol-inspired labels to commemorate the 50th anniversary of the artist's work.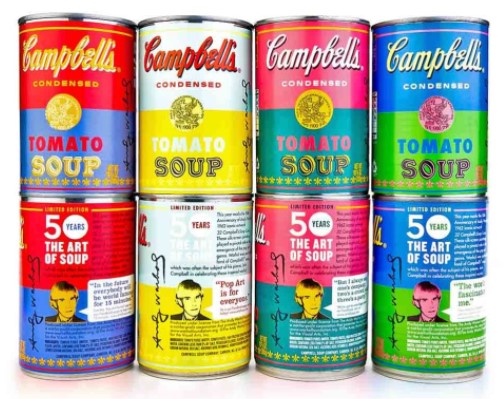 2016
Campbell's has another launch, this time called 'Well Yes!, a launch of 9 original varieties' including Roasted Chicken and Wild Rice as they come up to 150 years in business.
2019
Campbell's celebrates 150 years of delicious, affordable food.
Today
Campbell's Condensed Soup is enriching the lives of soup lovers across the world, and continues to be a go-to brand for quick and easy, delicious meals. Take a look at our Campbells' Condensed collection to find out more about the varieties on offer.
FAQs
How is Campbell's soup made?
Campbell's soup is made in a step-by-step process starting with the vegetables being washed, then turned into paste and then made into soup in the Campbell's Soup factories.
Our condensed varieties have been around since the 1900's!
https://www.youtube.com/watch?v=D0SWeBonEeQ
Who Invented Campbell's Soup?
Joseph Campbell, a wholesale fruit and vegetable vendor, and Abraham Anderson, a commercial canner and packer, formed the firm of Anderson & Campbell in Camden, New Jersey. This would one day become Campbell Soup Company.
When did Campbell's Soup Start?
In 1869, when Campbell and Anderson began to can fresh fruits and vegetables from their market stall in New Jersey
How old is Campbell's Soup?
152 years, as of 2021. Our 150th anniversary was in 2019!
What Flavour was the first soup that Campbell's ever made?
Beefsteak tomato was the first ever Campbell's Soup flavour! It was ready to eat, rather than the condensed variety many associate with our brand today, and was released in 1895.