Developed by our founders back in 1897, condensed soup has been a staple in cupboards ever since. For those not used to cooking with condensed soup, it can be a strange product. However, the amount of soup produced from one can, plus the endless possibilities of how you can use condensed soup, makes it a firm favourite in households across the world!
What is Condensed Soup?
Condensed soup is a type of soup that has minimal water to form a thick stock or cream like consistency. To cook, you add equal parts of soup to water/cream and cook through. This leaves a rich and flavourful soup.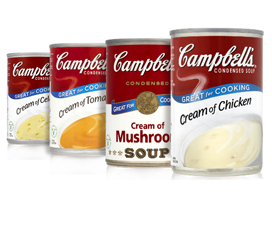 A cream-based soup is often a popular choice for a condensed soup, as the rich base and creaminess means that when cooked, it doesn't become excessively watery. Other popular choices are those with a carb in, such as chicken noodle soup, rice or potato-based soup. Beef stock or other meat stock-based soups is also a widely favoured choice. These all form popular bases for condensed soup as the ingredients condense and reheat well.
What's the Difference Between Condensed Soup and Regular Soup?
Condensed soup is essentially soup boiled down to a thick stock, with most of the volume of water removed. If you took a can of regular soup and boiled it down to half the volume, you'd get the same thickness as condensed soup.
1 can of condensed soup prepared = 2 cans of regular soup
How is Condensed Soup Made?
Condensed soup is made by mixing all the ingredients together and simmering it until a thick stock is formed. Once the thick stock has been created, it is then mixed with thickeners and some final flavourings to make sure it tastes as good as it looks! It's then packaged into cans and sent off to stores.
Obviously, Campbell's Soup makes thousands of tins of condensed soup a day on a huge scale, so our method of cooking is very different to what you may do at home, but the principle is the same.
The History of Condensed Soup
Condensed soup was created by Dr John T. Dorrance, who was our CEO at the time. Arthur Dorrance, nephew of Dr Dorrance, had trained at the University of Gottingen in Germany and returned to America to work with his uncle.
Arthur persuaded John to let him work at Campbell's, even buying his own laboratory gear and working for the small sum of $7.50 a week! After a year of trying, condensed soup was made, and the soup industry was changed forever. It was hugely popular and has been ever since.
And, in 1990, our 20 billionth can of Campbell's Cream of Tomato Condensed Soup was made.
You can read more about our history here.
Why is Condensed Soup So Popular?
Condensed soup is so popular because of its long shelf life, ability to cook with and rich flavouring. It's a popular base for many dishes, as well as being a well loved and filling soup. And because one can goes a long way, less cupboard room makes for a lot more meals!
Where Can I Buy Condensed Soup?
As the original inventors of condensed soup, Campbell's is your go to for condensed soup. You can find our products stocked across the country in supermarkets and in online shops.