Knowing what to do with your leftovers can be tricky, and often leads us to chuck food away unnecessarily through lack of inspiration. Whether it's leftover chicken from your Sunday roast or a bowl of veggies you aren't quite sure what to do with, soup might just be the answer to the problem.
Not only do leftovers taste delicious when added to soup, it provides a money saving solution and a great way to cut down on food waste too. Read on to discover how you can revive your leftovers in soup, and how you can use leftover portions of soup to create delicious meals.
How to Use Leftovers in Soup
Did you know that one can of Campbell's Soup contains two portions? Condensed soup is the perfect way to make your meal go further but knowing what to do with that extra portion of soup the next day often leaves you puzzling.
Whether it's chucking your leftovers into your favourite soup or making a hearty one from scratch, soup can be a great way to quickly revive your leftovers…
1.   Leftover Chicken in Tomato Soup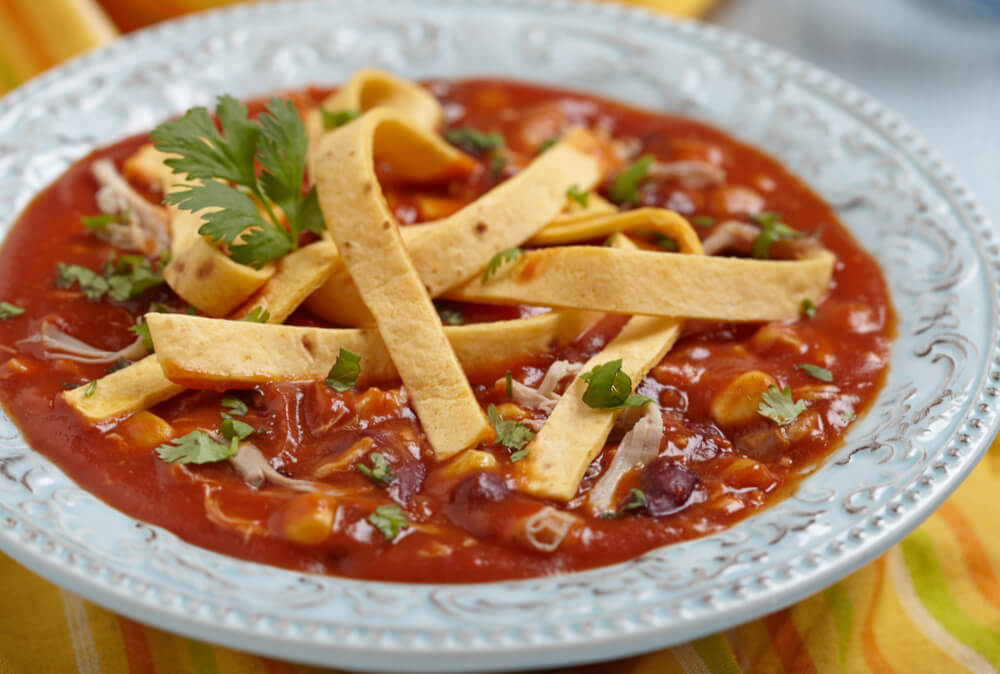 Wondering what to do with your leftover chicken? Adding chicken to tomato soup is a simple yet delicious way to revive your leftovers and elevate your soup.
All you have to do is get your tomato soup bubbling nicely, shred your leftover chicken using two forks and add towards the end, making sure the meat is piping hot all the way through. It really is that simple!
And if you're looking for a spicier hit, you can add a Mexican twist to this dish. Add chilli flakes to taste, a touch of cayenne pepper and cumin, and serve with strips of slightly toasted tortilla wraps.
After more simple additions for your tomato soup? Check out our 10 simple ingredients to add to tomato soup.
2. Leftover Vegetable Soup Ideas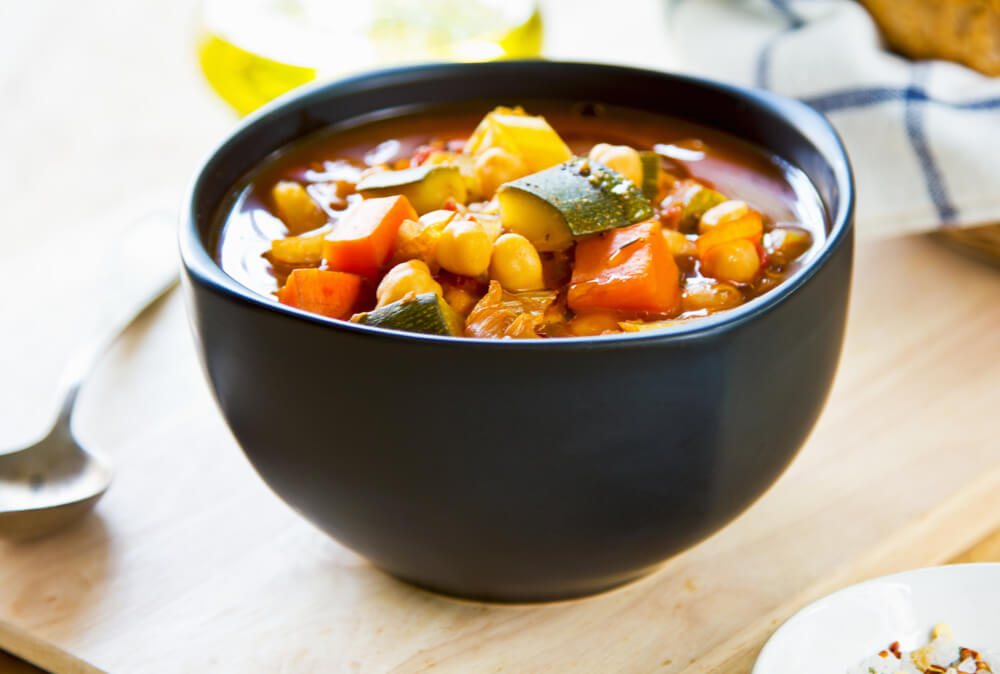 Next up on the list is a classic – leftover vegetable soup. It may seem old fashioned, but there's a reason soup is still so popular. It's such a simple way to bring your veggies back to life, and only takes a moment. All you have to do is heat a little onion or leek in butter or oil (the choice is yours), add your veggies of choice, vegetable stock, boil, blend and away you go!
And if you want to cut out the go-between, adding your leftover vegetables to your favourite tin of soup is a great way to use your leftovers without the hassle. If you've got Mediterranean vegetables leftover, such as courgettes or red peppers cooked with Italian herbs, this will be the perfect addition to tomato soup. Or if you've got leftovers green peas, this will pair nicely with Condensed Cream of Celery soup.
3. Leftover Ham in Pea Soup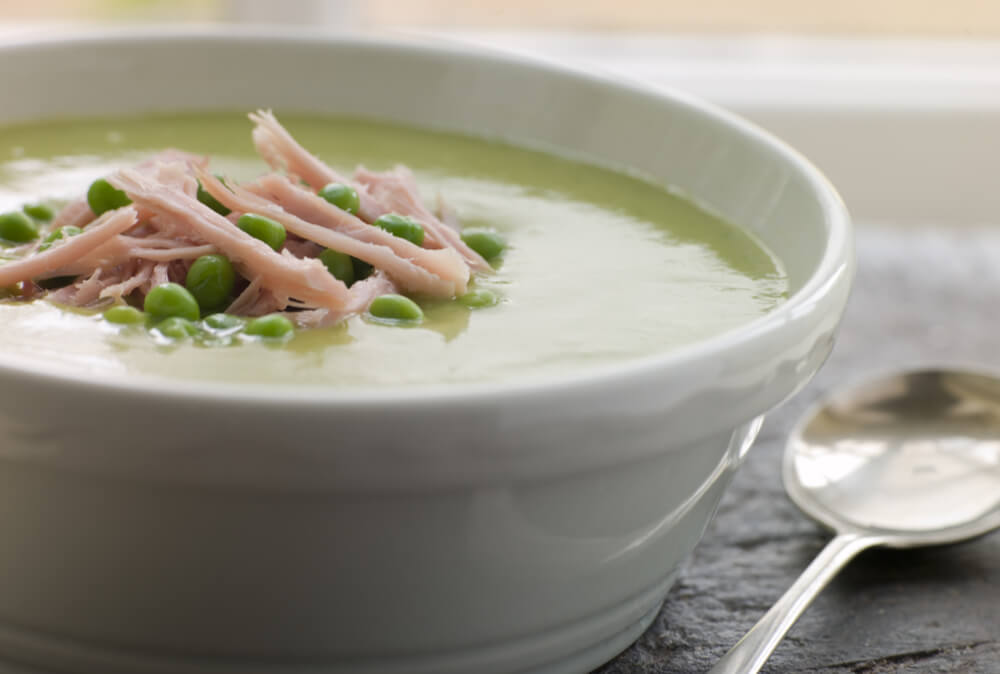 Whether you've lovingly cooked a ham for hours or simply have some leftover from your Sunday roast, making the most of that delicious, salty ham is a must. Served as lunch the next day or as a lighter main course, soup is a great way to get more out of this tasty meat whilst offering a lighter taste.
All you have to do is chop your cooked ham into bite sized cubes or thin strips, add to your soup and cook until piping hot all the way through. Add your leftover ham to its perfect partner, pea soup, or for a different kind of English taste, why not try with Condensed Cream of Celery soup?
4. Risotto with Chicken Soup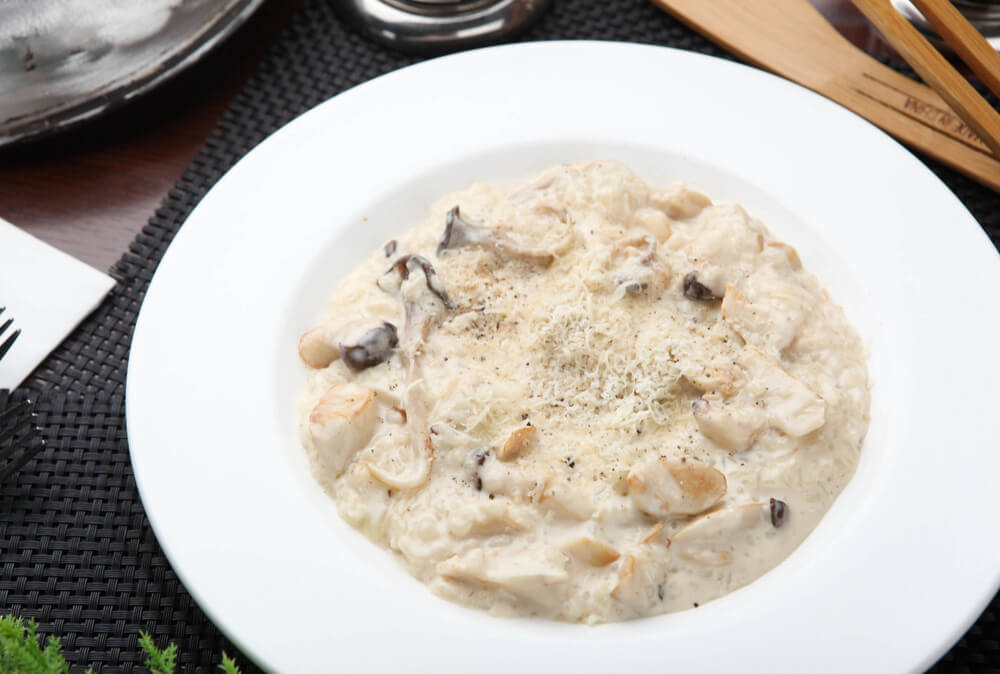 Looking to put your leftover soup to good use and a tip for the perfect creamy risotto? Look no further. Using condensed soup as a base for your risotto can be a quick and easy solution to getting that smooth, rich taste we all know and love from this Italian classic.
Cooked all in one pan, simply fry off your onions and any other base flavourings you desire, add your rice until lightly browned, stir in your leftover Condensed Cream of Chicken soup and stock of your choosing, reduce to low and cook for half an hour until tender. Easy!
5. Spaghetti with Mushroom and Bacon Sauce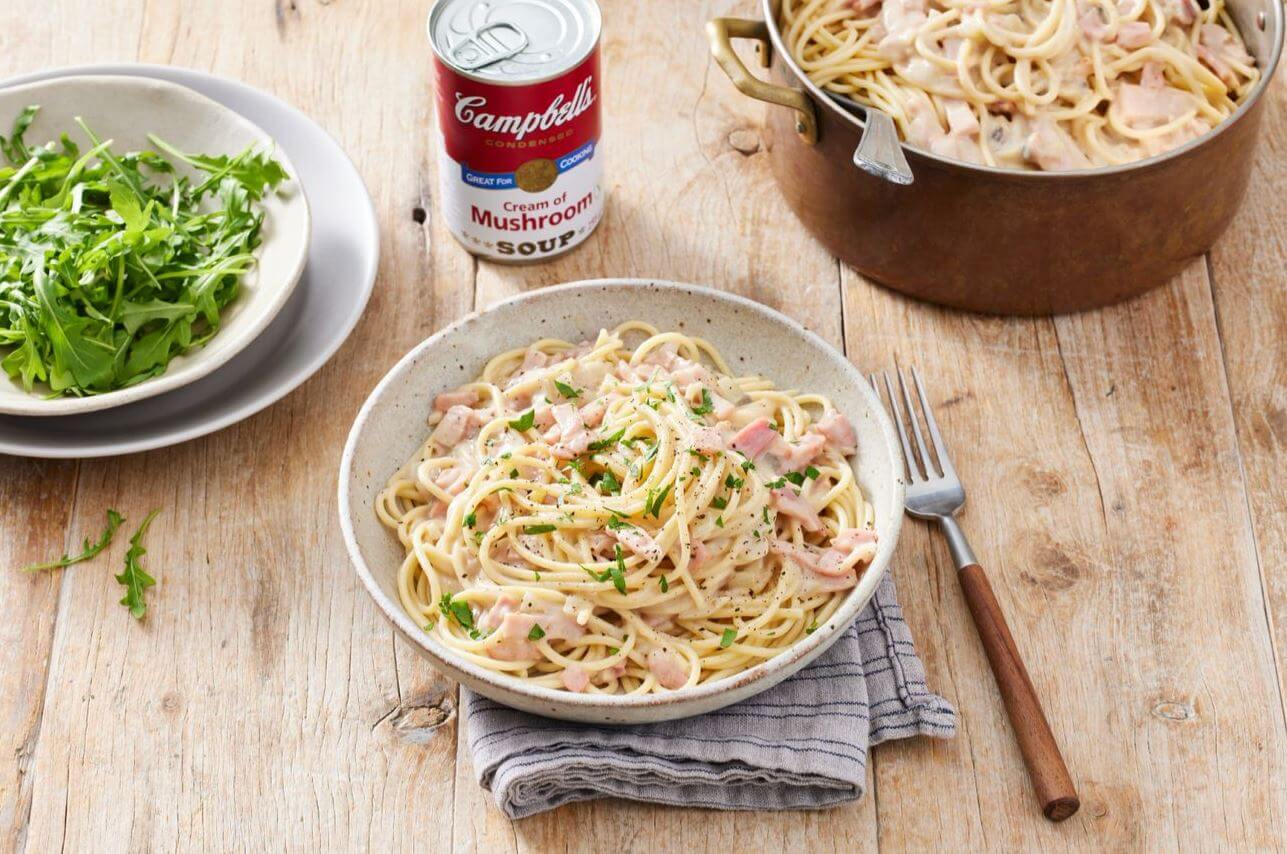 Spaghetti is always a winner, whether served with warming Bolognese in the winter or a lighter touch in the summer with garlic prawns and a touch of lemon. But if you're bored of the same old pasta dish, then it may be time to try something new. If you've got half a portion of mushroom soup lying around, then this is perfect chance to do just that.
All you have to do is add onion, bacon and garlic to a teaspoon of oil and cook for 5 minutes, stir in your condensed mushroom soup with a touch of milk, boil, simmer for a further 5 minutes, add your cooked pasta and voila! A delicious meal on the table in under 20 minutes.
You can find the full recipe for spaghetti with mushroom and bacon sauce here.
6. Tomato Soup as a Base for Pasta Sauce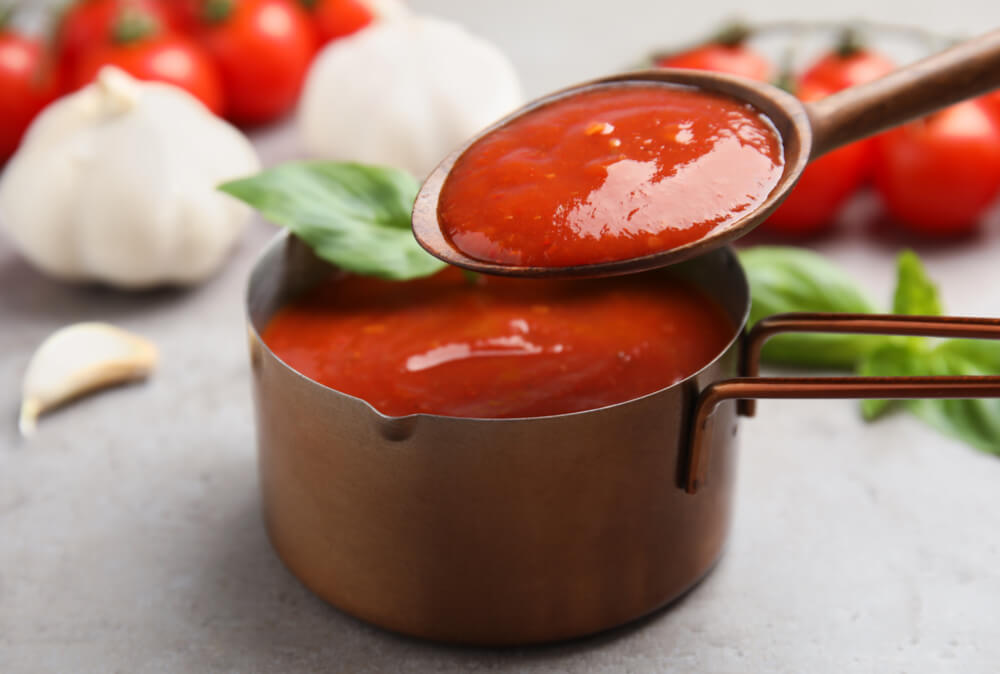 Not sure what to do with leftover tomato soup? Turning it into a pasta sauce is a great solution to avoiding food waste without having to eat the same meal the next day.
Condensed tomato soup has the perfect consistency for a thicker sauce compared to ordinary soup. All you need to do is add herbs, such as basil or oregano, a little seasoning to taste and there you have it – a tasty pasta sauce. And if you don't quite have half a can left or want to make this sauce go even further, just add a tin of tomatoes.
You can even use this as a pizza base if you want to! If you are looking for pizza inspiration, check out our vegetarian pizza using condensed celery soup for a switch up of a familiar favourite.
7. Chicken Casserole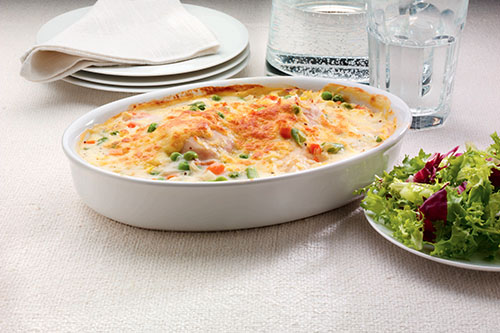 Last but certainly not least is a Campbell's classic – chicken casserole made with condensed chicken soup. If you're wondering what to do with your leftover chicken soup, this comforting dish will make the perfect midweek meal to utilise your lunch from the day before.
All you have to do is mix your leftover soup with water, onion, rice, black pepper and frozen veggies of your choosing, add chicken breasts and spoon the mixture over ready to bake in the oven for just under an hour. Done! A delicious, money saving casserole on the table in no time.
If you're looking for the full recipe, or want to add a cheesy twist, see how you can make our cheesy chicken and rice casserole today.
Discover Leftovers to Inspire with Campbell's Soup
We'd love to see your leftover creations. If you've made any of the recipes above or have created your own leftover Campbell's Soup must-haves, take a photo and tag us on socials using the buttons below!