Most people are familiar with the history of the Campbell Soup Company. As a kitchen cupboard essential for so many years, families all over the world have become a part of that history. Our soup has been enjoyed for people's entire lives.
From humble origins to a global cultural icon, Campbell's Soup has changed the world. But what about our iconic can? Over the last 140 years, it's gone through quite a few changes itself.
Campbell's Soup Can Design
Joseph Campbell's original partner was a man named Abraham Anderson. As a tinsmith, Anderson suggested that the original soup cans be made from tin.
In addition to being useful for storing soup, tin is relatively light and easy to cut. This is useful because when Campbell's Soup first hit the shelves, the tin opener hadn't been invented yet! Instead, our cans were opened with  shears, presumably very carefully…
Today, our cans are made from steel-alloy and, as of 2000, have easy-open tabs, so you don't even have to reach for the tin opener!
Modern cans are made from steel using the "two-piece" method which has no side seam and no seam between the body and bottom end, allowing for a tighter seal while using fewer raw materials.
Over the years, ridges have been added to increase overall durability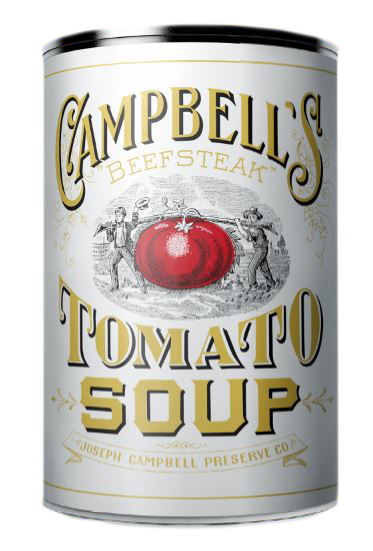 Campbell's Label Design
Our first official trademark was the original White and Gold label in 1897. The two men bringing a tomato out of a field connoted the fact that each can contained a whole tomato.
The more familiar red and white label first debuted in 1898. The colour scheme was introduced after Herberton L. Williams, the company's treasurer and general manager at the time, saw a University of Pennsylvania versus Cornell football game. Impressed by the dynamic and easily identifiable red and white uniform of the Cornell University team, Williams proposed the change.
The centre medallion had several variations between 1898 and 1900. But after 1900, it was modelled after a medal we received at the 1900 Paris Exposition Universelle. Today it remains a longstanding symbol of excellence.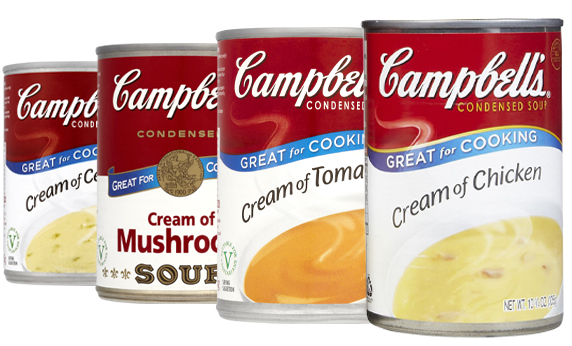 Decades later, the historic soup can design would be immortalised by Andy Warhol and remain a go-to image of soup to this very day. Even versions of the Canned Food emoji have clear Campbell's influences.
Campbell's started canning soup as a way for consumers everywhere to access nutritious, great-tasting food. A hundred some-odd years later, we make more soup in more advanced cans than ever–but our central mission has remained the same.