Bored of the same old white sliced bread with your soup? Look no further. We've put together a handy list of our favourite breads to dip, scoop or dunk in your soup this winter.
Including both familiar favourites and some wild cards, we're here to put the excitement back into the classic soup and bread pairing. So, if you're looking for the best bread to complement soup, read on.
French Baguettes with classic soups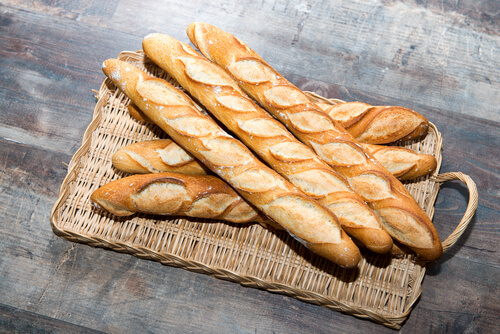 We're kicking off the list with a familiar favourite – the French baguette. Crunchy on the outside and soft in the middle, this French classic is a real crowd pleaser and great for any occasion. Try sliced into rounds or simply torn and shared, dipping into your favourite soup this winter.
Sourdough with Campbell's Cream of Mushroom Soup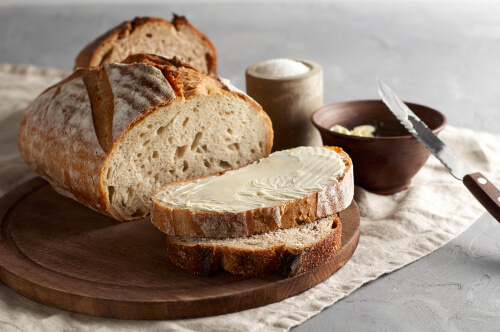 Next up on the list is sourdough. This rustic bread is the perfect companion for Campbell's Cream of Mushroom soup this winter. Not only will the earthy tones that sourdough has to offer complement the deep, rich flavours of Campbell's Cream of Mushroom soup, but this tasty bread will support gut health and promote better digestion. No brainer, right?
Naan with Lentil and Spinach Dhal Soup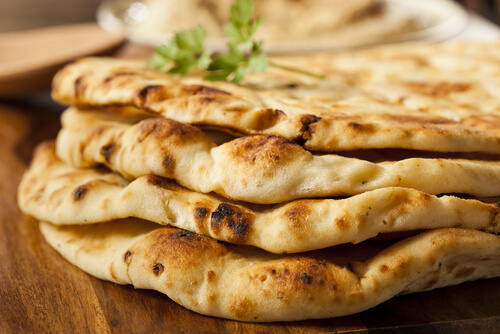 Looking for something out of the box? We've got you covered. Traditionally served with Indian cuisine, naan is just the accompaniment you need to boost your mealtimes.
Specifically, this Indian flatbread is the perfect bread for dipping into a lentil and spinach dhal soup to bring some extra warmth to those cold winter months. We're certain this bread and soup combo will become a firm favourite.
Pita Bread with Carrot and Coriander Soup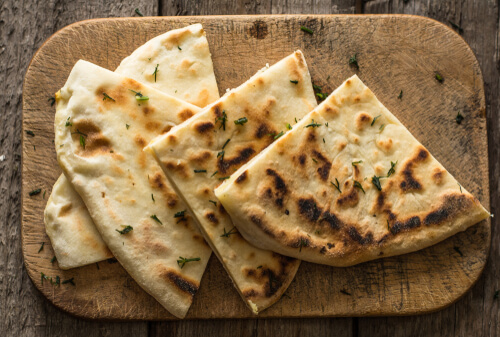 Next up is pita bread. Loaded with anything that takes your fancy or simply on its own, this Greek flatbread is a great all-rounder to complement a wide variety of soups. Soft with a spongy middle, this bread is great to dip, dunk or scoop up any delicious soup of your choosing. We recommend trying with carrot and coriander soup.
Rye Bread with Campbell's Cream of Celery Soup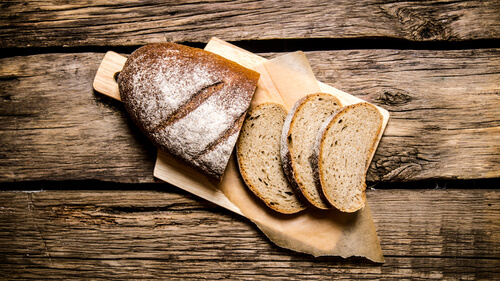 Looking for a healthier alternative? We've got you. Naturally high in fibre and a great source of B vitamins, rye bread is the ideal side to dunk into soup for a lighter taste of a hearty British classic. So, if you're after a nutritious alternative without compromising on taste, why not give it a go? Try with Campbell's Cream of Celery soup.
Challah with Butternut Squash Soup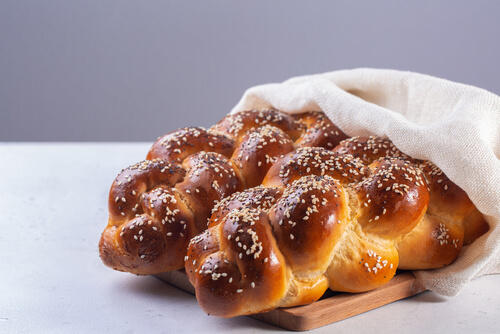 Out with the old and in with the new. Why not try a traditional Jewish bread? Host to a wide variety of toppings, sweet or savoury, Challah is a great versatile bread to complement soup. This braided traditional Jewish bread is rich and spongy, perfect to dip in butternut squash soup for a truly satisfying meal.
Soda Bread with Campbell's Cream of Chicken Soup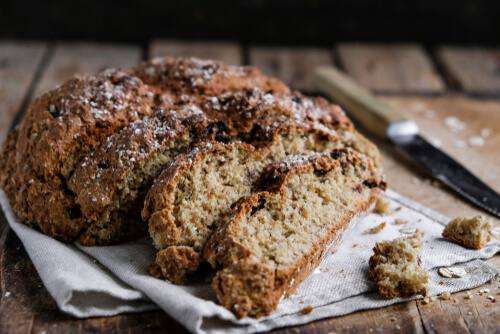 Irish soda bread is the perfect accompaniment to any soup throughout the chilly winter months. Using baking soda instead of yeast gives this quick bread its unique texture to really complement its biscuity taste. Top with butter and try with Campbell's Cream of Chicken soup for a warm, comforting meal.
Focaccia with Vegetable Soup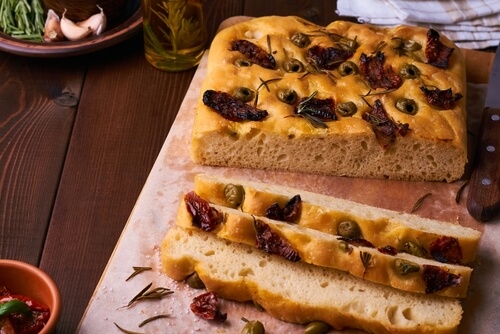 If you're looking for a bold flavour to revive your mealtimes, focaccia bread is the one for you. Simply choose your flavour, whether its rosemary, olives, sundried tomatoes, or anything you fancy. Paired with a mixed vegetable soup, this fragrant Italian favourite is sure to pack a punch.
Tiger Bread with Campbell's Cream of Tomato Soup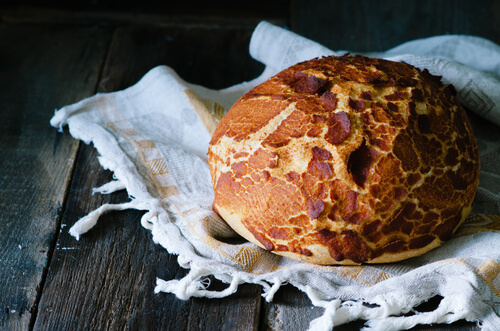 Tiger breads' distinct taste alongside its soft centre and mottled crust makes this bread truly perfect for soup dipping. If you're looking to revive this familiar favourite, why not take it even further and make the ultimate grilled cheese sandwich with this Dutch classic? The perfect side to dip into Campbell's Cream of Tomato soup for an explosion of flavour.
Ciabatta with Minestrone Soup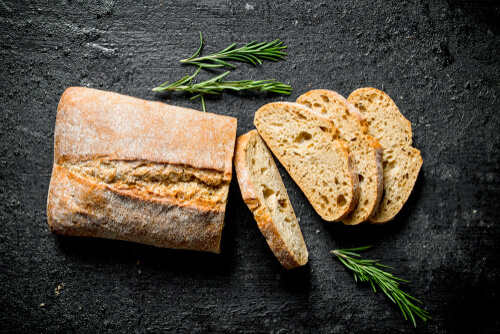 Need something to please the whole family? Bring the taste of Italy to your home with ciabatta bread. Try this Italian classic lightly toasted with a drizzle of oil and pair with Minestrone soup. The ciabatta crunch dipped into this delicious family favourite is sure to be a hit.
Check out our Top 10 Soup & Sandwich Ideas
Want to put your newfound bread knowledge to good use? Check out our Top 10 Soup & Sandwich Ideas for Lunch to really revolutionise your lunchtimes. Take a photo and let us know your favourite soup and bread combo using the buttons below!