Whether you want to impress your guests with some unusual combos, or you're just looking for some tasty comfort food, Campbells has everything you need when it comes to soup and sandwich ideas. From the classy and elegant to the finger-licking messy, get the inspiration you need below. 
Sandwiches for Campbell's Cream of Chicken Soup
Campbell's Cream of Chicken soup is a firm favourite in many households. Often used for a quick, warming meal in the winter months, Cream of Chicken can be perfectly complemented with a few different sandwiches. 
1) A Christmas Sandwich
The beauty of this sarnie is that it can be as plain or as extravagant as you like. Using the soup for dipping to bring the poultry element, stuff your sandwich with all your favourite Christmas dinner components. Combine sausage meat, bacon, cranberry sauce, stuffing, and vegetables if you're so inclined, for the perfect Christmas-themed lunch that's sure to be loved by all. 
2) Cheese & Onion Sandwich
A classic cheese and onion sandwich is a winner to pair with Cream of Chicken soup. The flavours perfectly complement each other as punchy onion enhances the smooth and creamy chicken and cheese. Go for a medium cheddar or even a brie if the household prefers. 
Or, for an alternative side dish, try our Wild Mushroom Arancini. Made with Campbell's Cream of Mushroom soup, these are a tasty little treat for dipping and dunking into the Cream of Chicken too. 
Sandwiches for Campbell's Cream of Mushroom Soup
While the little ones may not favour the mushroom soup, paired with one of these delicious sandwiches you may find it's a hit. Thinking along the lines of a hearty English breakfast, the Cream of Mushroom pairs well with a range of fry-up elements. 
3) A Bacon Sandwich
One of the UK's favourite sarnies, this option is perfect for satisfying hungry tummies. Quickly fry up some bacon and use it to generously fill two slices of thick, buttered white bread. Dipped into Cream of Mushroom soup, these two dishes are a match made in heaven.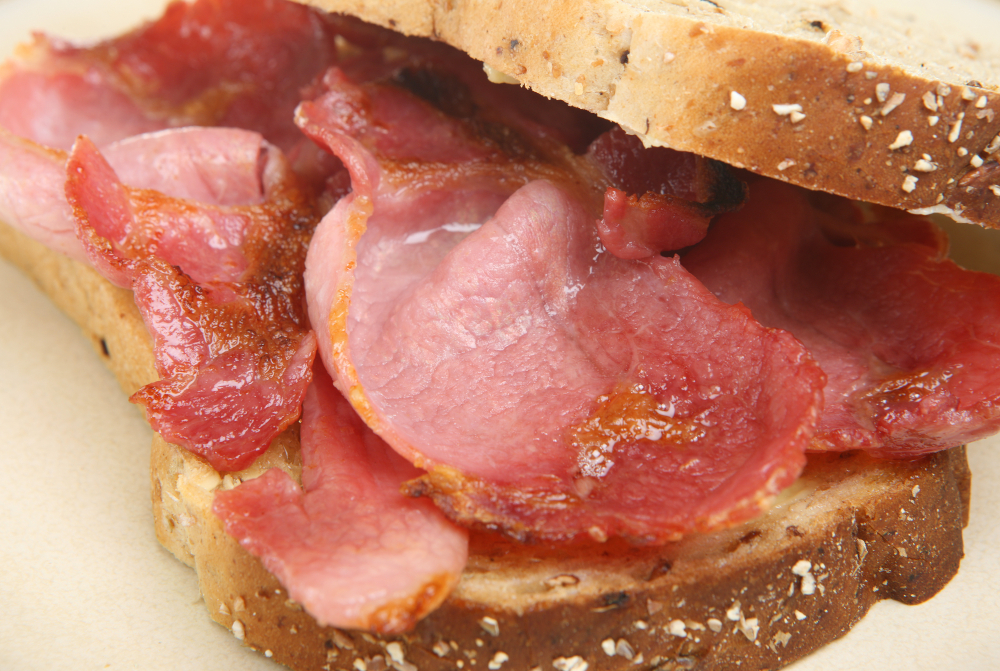 4) 
Egg & Avocado Sandwich
One for a slightly more sophisticated palette, egg and avocado is another popular breakfast option that works fantastically with the Cream of Mushroom. Try fried, scrambled, or even sliced, hard-boiled eggs with a crushed smear of ripe avocado on the bread of your choice. We love a thickly sliced granary loaf for this one. 
Sandwiches for Campbell's Cream of Celery Soup
Campbell's Cream of Celery soup is one of our lesser-tried options, but it packs a lot of great flavour that works well with a number of sandwich sides.  
5) Buffalo Tomato and Mozzarella Sandwich
This vegetarian option is excellent for pleasing a table of guests with varying tastes and dietary requirements. This well-loved pair has been enjoyed in sandwiches, on salads, and on pizzas for years, and combined with a dish of Cream of Celery, it's sure to be a hit. 
6) Lobster Roll
This delicious New England favourite is another great option for impressing visitors. Made with lobster tail or crawfish, (or crab, or even prawns if you prefer), mayonnaise or coleslaw, stuffed into a toasted brioche bun. Serve with a lemon wedge and a dish of Cream of Celery for an extra special lunch.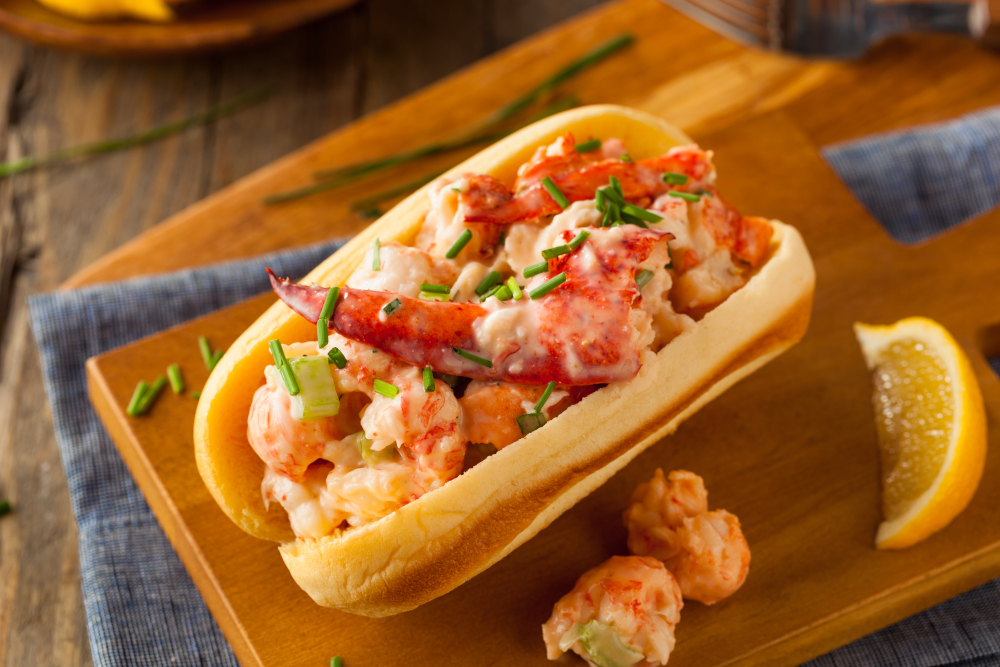 7) Ploughman's Sandwich
Turn this popular pub lunch into a sandwich by filling your bread of choice with cheese, ham, pickle, and tomato. Whether or not you would ordinarily serve celery on a Ploughman's, this soup brings an extra feature to the dish that works very well.  
An alternative to a sandwich could be our tasty Savoury Chicken Pancakes, made with Campbell's Cream of Chicken soup, mushrooms, and cheese. With this option, you get to enjoy a variety of flavours that go together incredibly well. 
Sandwiches for Campbell's Cream of Tomato Soup
The most popular Campbell's soup, our Cream of Tomato goes really well with a range of sandwiches and other sides. Whether you're dishing up for little ones, or you just fancy a quick and easy lunch on a busy day, these sandwiches are the ideal accompaniment. 
8) Grilled Cheese Sandwich
Who doesn't love a tasty cheese toasty? One of our absolute favourite soup and sarnie combinations, a grilled cheese sandwich is perfect for dipping into Cream of Tomato Soup, as it holds together well and soaks up that rich tomato-ey goodness! Popular among adults and kids alike, this makes for a simple but delicious lunch. 
9) Steak Sandwich
This one takes a little bit more planning, especially if serving to multiple guests, but is well worth it. Cook your steak – with a little sprinkling of seasoning – to your preference. We like a thin frying steak cooked very quickly on both sides, cut into small slices with a little butter, salt and pepper. Serve in two slices of your favourite bread on the side of a bowl of tomato soup for a lunch that's sure to satisfy. 
10) Fish Finger Sandwich
One for the children – but loved by grown-ups too! – Bring fish finger Friday to life with a side of Cream of Tomato soup and fish fingers in a sandwich. This is comfort food in its truest form; easy to prepare and enjoyed by everyone. Even the fussiest of diners will be pleased when you pop this in front of them for tea.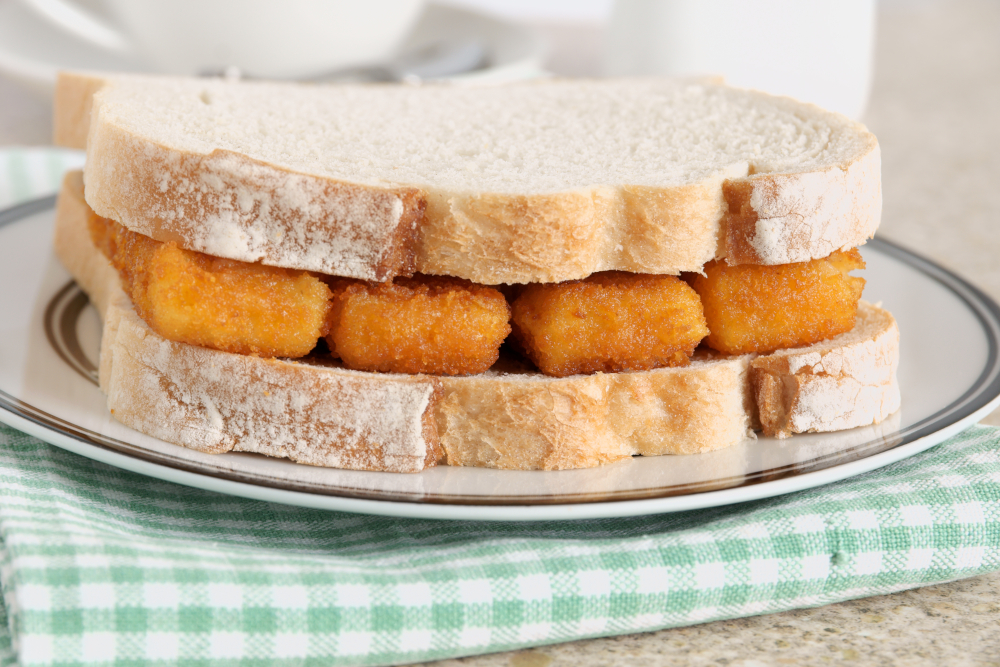 For more inspiration on what to serve with your favourite Campbell's soup, check out our blogs; The Perfect Partners for Cream of Tomato Soup, The Perfect Partners for Cream of Chicken Soup, The Perfect Partners for Cream of Mushroom Soup, and The Perfect Partners for Cream of Celery Soup. Be sure to let us know what your favourite Campbell's soup sides are on our social media pages, using the buttons below!