What Goes Well with Cream of Mushroom Soup
Sometimes deciding what to eat with your bowl of soup can be a bit difficult! There's always the obvious choice of some fresh bread from the bakery, but what if you fancy something a bit different? Don't worry! We've put together some scrummy sides to go next to a bowl of Campbell's Cream of Mushroom soup.
What to Serve with Mushroom Soup
Slow-Cooked Kale with Bacon and Garlic
This unique soup side is packed with not just flavour but nutrients too. Crunchy and light, enjoy your soup alongside slow cooked kale to add an additional kick to your meal! (And you can cook them in under 20 minutes!)
Serves 4-6
Ingredients:
2 bunches of kale, trimmed and shredded
8 rashers thick bacon
2 large red onions, chopped
4 garlic cloves, crushed
1tsp salt
1/2 tsp pepper
Method:
In a large saucepan, boil a small amount of water (approximately 1 inch). Add the kale and cook for around 10-15 minutes, or until tender.
In a frying pan, fry up the bacon until crisp. Remove the bacon from the pan and then fry the garlic and onion in the leftover fat.
Drain the kale and add to the garlic and onions.
Season well and add the bacon. Stir and serve.
Cheesy Scones
Scones are a welcome delight, sweet or savoury and this cheese scone recipe provides light and crumbly scones for a perfect partner to mushroom soup.
Serves 8-12
Ingredients:
225g self-raising flour
55g butter, softened
25g mature cheddar cheese, grated
150ml milk
Pinch of salt
Method:
Preheat oven to Gas Mark 7/220°C/Fan 200°C. Grease a baking tray.
In a large bowl, mix the flour and salt. Using your hands, rub in the butter.
Add the cheese and milk and stir until a soft dough is formed.
Lightly flour a work surface and turn out the dough. Knead lightly and then pat until about 2cm in thickness.
Use a circular 5cm cutter to cut out the shapes and place gently onto the baking tray. Knead the remaining dough together and repeat until the dough has been used up.
Brush the tops with some milk and then bake for 12-15 minutes, or until they are golden in colour. Leave to cool on a wire rack.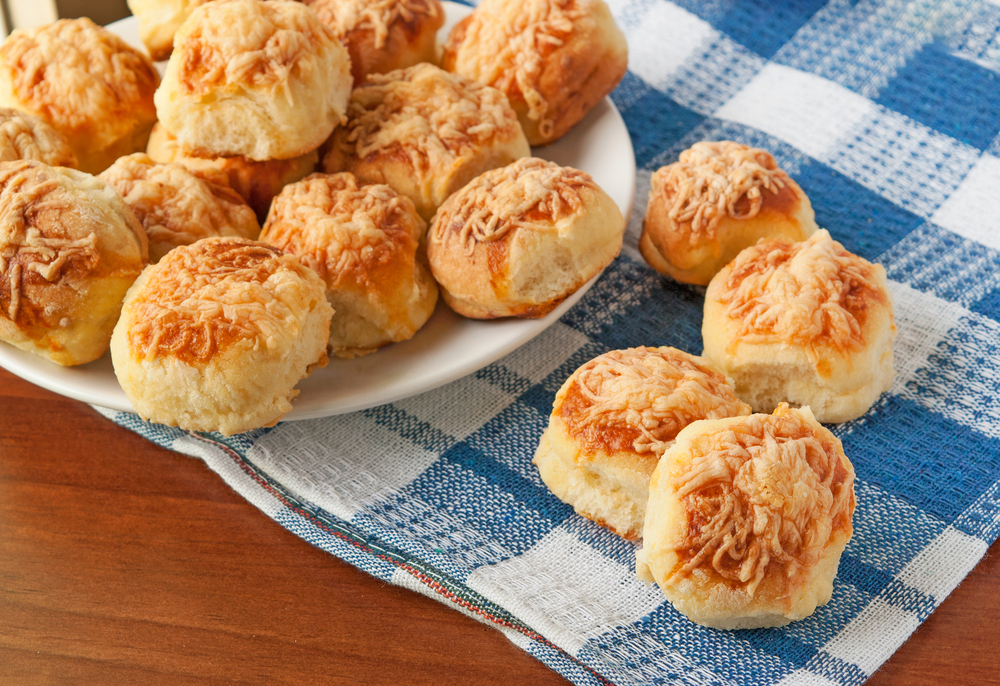 Rosemary Roasties
Rosemary roasties are the perfect bitesize partner for Campbell's Cream of Mushroom, with limited ingredients needed you can make these in just under an hour. These are great for when you are having soup for dinner and looking for a delicious side!
Serves 6
Ingredients:
1.5kg potatoes, peeled
1 garlic bulb
3tbsp olive oil
1 bunch fresh rosemary
Method:
Preheat the oven to Gas Mark 5/190°C/Fan 170°C.
Cut the potatoes through so they are all an even size. Wash them in cold water.
Add the potatoes to a large saucepan and fill with cold, salted water. Parboil for approximately 7 minutes, before draining in a colander.
Shake the colander to fluff the potatoes and then tip the potatoes out onto a large baking tray and cover with the olive oil.
Roast for 30 minutes or until the potatoes are about three quarters cooked.
In a separate bowl, add some more oil, tear up the rosemary and break the garlic bulb. Stir thoroughly and then pour over the potatoes. Shake the baking tray to spread the mixture.
Place the tray back into the oven for another 40-45 minutes so the potatoes are cooked all the way through and are crispy. Serve warm.
Baked Stuffed Potatoes
Mmm, baked stuffed potatoes. They're the perfect partner when it comes to Campbell's Cream of Mushroom, packed with flavour they'll get your taste buds trembling!
Serves: 2
Ingredients
2 medium potatoes
50g strong cheddar,grated, plus extra for topping
50g sweetcorn
50g mixed pepper, diced
Small handful fresh herbs, such as oregano, basil, coriander, dill or thyme
Method:
Heat the oven to 200C/180°C fan/Gas 6 and bake the potatoes for about 1 hour until cooked and the skins are crispy. Leave to cool completely. (This can be done up to 2 days ahead.)
To stuff the jacket potatoes, heat the oven to 200C/180C fan/gas 6 and cut the potatoes in half. Using a spoon, carefully scoop out the middle of the potato. Place the scooped potato into a mixing bowl.
Using the fork, mash the potato until there are no lumps. Add the cheese, sweetcorn and peppers and mix well. Gently pick the leaves from the herbs. Stir the herbs into the cheesy potato mixture. (mmmm!)
Using the spoon, carefully scoop the mixture back into the potato boats. Make sure that you use all the mixture up. Place the tray in the oven and bake for 10-15 mins until golden.
Enjoy with a scrummy bowl of Campbell's Cream of Mushroom!
Easy Garlic Bread Rolls
These scrummy garlic bread rolls are easy to make and taste delicious. They're the perfect size for dipping and oozing with unreal flavour, enjoy them warm alongside your Campbell's Cream Of Mushroom.
Serves: 4
Ingredients:
4 artisan rolls
Butter
Garlic cloves, minced
½ tsp dried Italian seasoning
Method:
Preheat oven to 400°. Cut rolls in half horizontally. Melt butter in a small saucepan over medium-low heat.
Add minced garlic and dried Italian seasoning, and cook, stirring constantly, 1 to 2 minutes or until fragrant.
Brush butter mixture on cut sides of bread. Place bread, cut sides up, on a lightly greased baking sheet. Bake 7 to 8 minutes or until lightly toasted.
Enjoy and dip in a warm bowl of Campbell's Cream of Mushroom!
What Sandwich Goes with Cream of Mushroom Soup?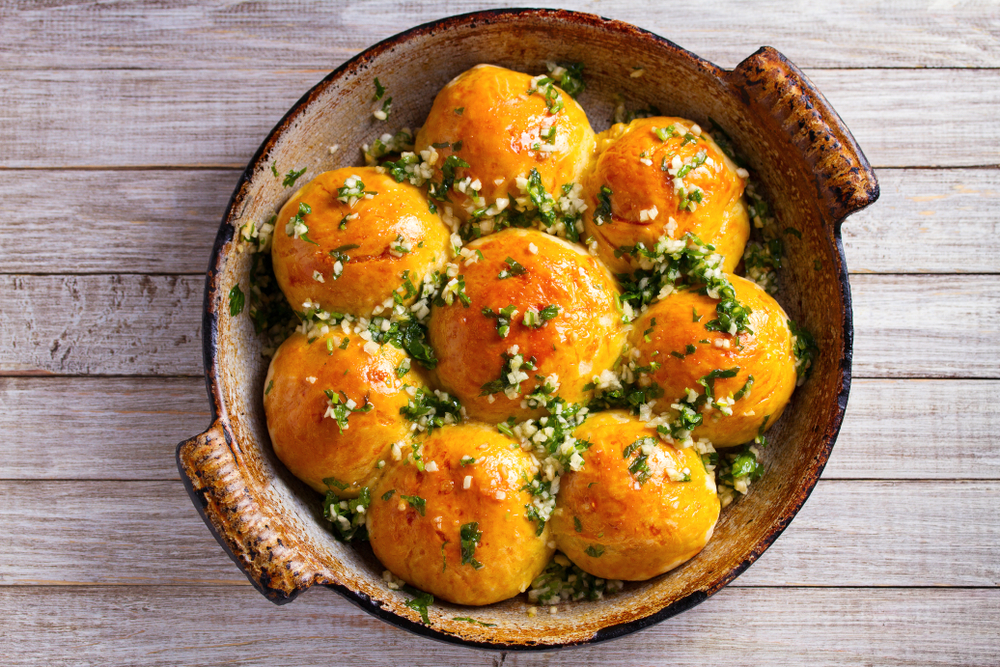 Classic Cheese and Onion Toastie
You just can't beat a classic melted cheese and red onion toastie, it's the perfect carb loaded partner to dip in your creamy mushroom soup.
Serves: 1
Ingredients:
Bread
Butter
Choice of cheese
One red onion
Method:
Prepare your bread by buttering each side
Add in your grated cheese
Add your chopped onion on top
Bake in the oven for 10 minutes at 250 degrees Celsius (keep watching it as you may need to take it out a little earlier than this)
Dip and enjoy!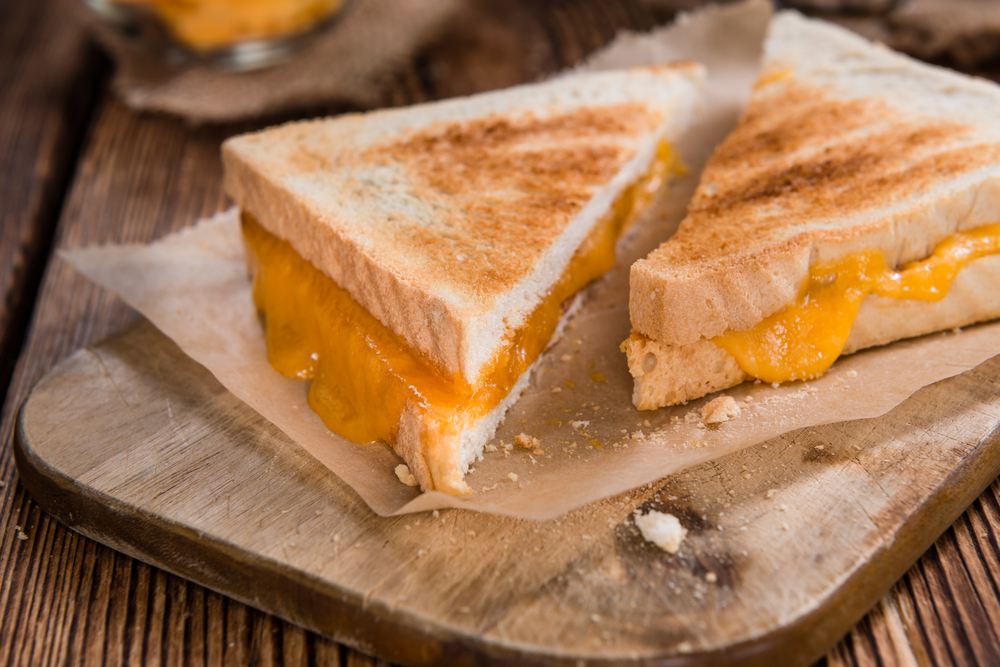 It's really easy to make a hearty and delicious meal out of a bowl of Cream of Mushroom soup and a side dish. It will keep you filled up and warm for the whole day. These recipes are the perfect partners for a bowl of soup, but there are plenty more out there to explore!
What do you like to have with your Cream of Mushroom soup? Let us know on our Facebook page!