Soup is commonly a starter in a three-course meal or a tasty lunch served with crusty bread on a cold winter's day. That may be so, , but did you know it is perfectly acceptable to eat soup as a main course? As unlikely as it sounds, it is completely true and most definitely scrumptious. In fact, it should be positively encouraged. Here, we explore the many delicious reasons why soup can be the star of any dinner show.
Can Soup be a Main Course?
What Do You Serve With Soup For Dinner? The first question that probably springs to mind when you think of consuming soup as a main meal is: will I be hungry afterwards? After all, how can a warm bowl of soup possibly fill you up? Fear not, there are a host of easy-to-follow culinary tricks that can turn soup into a substantial main meal to ward off those hunger pangs and leave you fully satisfied.
1. Pack in those veggies
You wouldn't generally eat the main course without an accompaniment of vegetables or side dishes. Well, the same rule can be applied to soup.
Whether you're making your own soup or using a can of Campbell's famous condensed soup as a base ingredient, adding a variety of healthy vegetables will bulk it up and turn it into a comforting main course.
Carrots, celery, peas, green beans, butternut squash – there is no shortage of choice and just about every vegetable going works wonders in soup. They don't have to be fresh either as this is a perfect opportunity to give leftover veggies a second lease of life. If you're up against time, frozen vegetables work just as well. If you want to spice things up, add fresh chilli for a heat kick. Finish off with a sprinkling of herbs and serve with a hunk of bread and you have an ideal main meal.
2. Add wholesome wholegrains
Wholegrain products and starchy foods are great for turning soups into a main course. They contain fibre and other vital nutrients that are not only packed with goodness but also promote satiety to leave you feeling satisfied.
Pasta, barley, brown rice, quinoa, potatoes and sweet potatoes are just a few examples of wholegrain foods that can turn your soupy starter into a mouth-watering main.
Wholegrain products also contain vital antioxidants and soluble fibre which are believed to carry a number of health benefits.
If you don't have any of these products to hand you could always use a few slices of wholegrain bread to accompany your warm bowl of soup.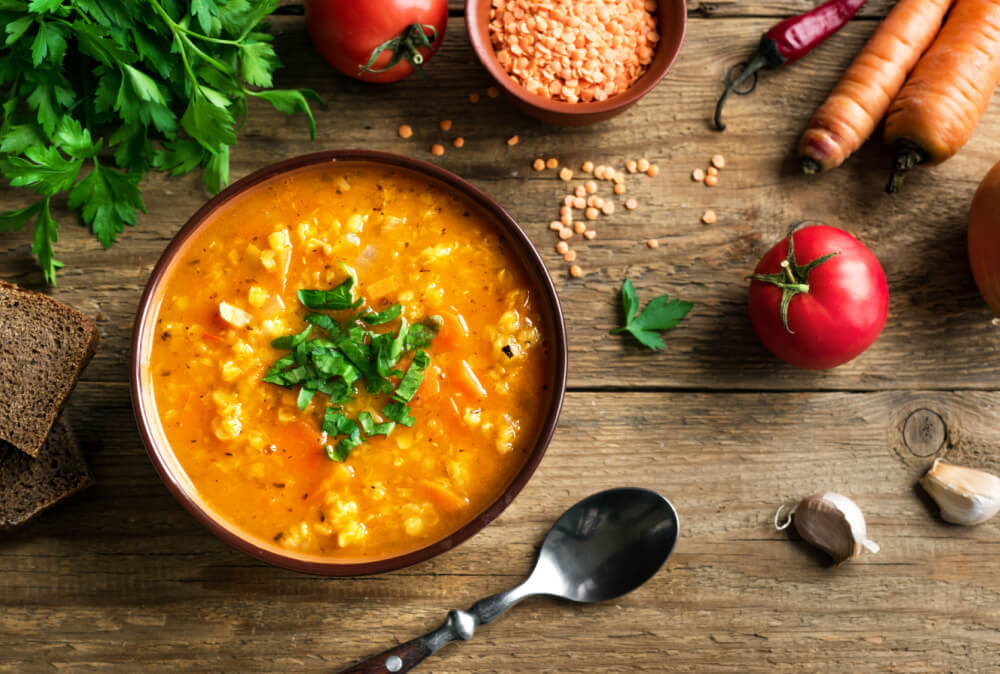 3. Protein power
The base of your soup is made and you are ready to take it to new levels with some extra ingredients and turn it into a delicious main course. Adding protein is a simple way to achieve this.
Meat eaters could throw in chunks of chicken, pork or beef and let them slowly cook in the soup (leftover meats are just as effective!). Alternatively, adding prawns or pieces of white fish, for example, works just as well.
The variety of vegetarian options is almost endless too as eggs, tofu and pulses perform a similar job, as do legumes like lentils, chickpeas and white beans. Adding a small amount of protein and maybe some grated cheese to finish will bulk up your soup into a main course.
4.   Just for starters
An easy way to turn soup into a main course is to enjoy a substantial starter beforehand – or even a selection of them. That way, you will already be on the road to a full stomach and won't need to devour a big main dish.
So don't hold back with your introductory course then follow up with a delicate bowl of delicious soup for the main event. After all that indulgence, we can guarantee you won't feel hungry.
How To Make Soup A Dinner Party Main Course
Serving soup as a main course at a dinner party is a little unusual. But when done in the right way, it can work a treat.
Your guests may be surprised by your choice, but they are also likely to warm to the idea and welcome a change from the norm.
Whether you're making soup from scratch or using one of four delicious flavours of Campbell's Condensed Soup, the possibilities are endless.
We recommend serving a variety of appetizers before your soup main course. The appetizers don't have to be heavy, but they should be packed with flavour. The contrast of colour, texture and taste is certain to go down well around the dinner table.
Nothing compliments hearty soup better than bread. Offer your guests a choice of freshly-baked breads like granary, sourdough or a loaf of dark rye and provide plenty of real butter and flavoured oils to go with it.
Soup doesn't have to be served in a traditional bowl either. Take a loaf such as sourdough, hollow it out and pour in your warm soup and you have a ready-made bread bowl that not only looks great but tastes fantastic.
Of course, the other main advantage of serving soup as a main course is that it's much quicker to prepare and make than a large meal – giving you more time to relax and mingle with your dinner guests.
Campbell's Soup Make Meals Go Further
One can of Campbell's Condensed Soup contains two portions and is the perfect way to make a meal go further. Discover our range of recipe ideas right here.