Think soup is just for winter? Think again.
Soup can be enjoyed all year round – with flavours varying from fresh and zingy tomato to creamy and indulgent mushroom, soup truly is loved by all and provides us with a wealth of benefits. It's inexpensive, easy to prepare and leaves us feeling revitalised and most importantly, satisfied. So why not take a look below and read more about the brilliant benefits soup has to offer?
1. It's quick and easy
Sometimes, spending hours slaving away in the kitchen preparing dinner is the last thing you want to do – especially now that the evenings are longer and the weather is brightening up. However, preparing a quick dinner doesn't mean you should settle for unhealthy, microwaveable ready meals and snacks. Soup is the perfect, wholesome and filling lunch or dinner solution to satisfy your hunger cravings when you want to prepare something fast. Simply heat it up and slice off a slab of crusty, chunky bread to accompany – then enjoy!
2. Soup is a true comfort food
We all have days where we don't feel our best – whether it be due to excessive tiredness, a challenging day at work or dreary weather outside. Soup is the ultimate solution to re-energise and wrap your body in a comforting embrace with its warm and hearty flavours. Sit down, put your feet up and savour its calming and satisfying taste.
3. It's healthy and nutritious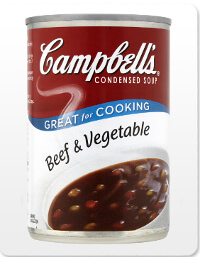 It's a common question, but how healthy is soup? As well as being a quick and simple meal idea, soup can be healthy and nutritious, so long as you seek one with natural ingredients. Vegetable soups are a great way to ensure you're working towards getting your daily intake of fruit and veg, with common ingredients including flavoursome tomatoes, mushrooms, celery, potatoes, carrots, onions and peas. As an example, these vegetables contain an array of vitamins including vitamins C, A and E – very tasty.
Whilst it's true that cream-based soups tend to contain higher levels of fat than broth based, there are usually low-fat alternatives to satisfy your creamy cravings. However, you can always opt for a non-cream-based soup with fewer calories if you prefer.
Campbell's soups contain only the freshest of vegetables to make sure you experience all the benefits they have to offer; you can take a further look at what's inside here.
4. Soup is affordable
Let's face it, seeing the total of money disappear from your account thanks to the weekly food shop can be disheartening, especially when you take into consideration how much of the food eventually gets wasted. This is why soup lends itself as a great, affordable option. As many soups are available in cans, they subsequently last a long time and are very cheap to buy, minimising food waste through expired sell by dates and saving you a few extra pounds in your pocket.
5. It can double as an ingredient
Not only is soup wonderful to be enjoyed as it is, it can also be used to create an array of colourful and flavourful dishes. Campbell's condensed soups have long been used as staple ingredients in everything from casseroles to pasta bakes, proving that always having a tin to hand in the cupboard is a wise idea. You can check out some inspiring recipes here to get you started with some inspiration.