With Halloween looming creepily around the corner, you may be starting your preparations to celebrate this spooktacular time of year! Maybe you're throwing a full-on fancy dress party for your friends, or perhaps you're getting together with your family for a candlelit dinner? Even if you don't have big plans to celebrate this Halloween, there's still plenty that you can do to mark the occasion.
Here at Campbell's, everything starts with soup. Halloween is no exception! We've put together some fantastically freaky Halloween soup ideas for you to enjoy regardless of what your plans are. A bowl of scary soup may make the perfect starter on your menu, or a cauldron of soup could be the ideal centrepiece at your party!
The Classic Pumpkin Soup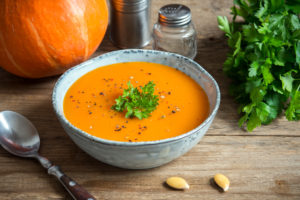 You Will Need:
2 tbsp olive oil
2 onions, chopped finely
1kg pumpkin (or squash), peeled, deseeded and cut into chunks
700ml vegetable stock
150ml double cream
Method:
In a large saucepan, heat up 2 tbsp of olive oil and add the chopped onions. Cook until soft but not golden in colour.
To the saucepan, add the chopped pumpkin (or squash) and continue to cook for around 8-10 minutes. Stir gently until the vegetable starts to soften and turn golden.
Into the saucepan, pour all 700ml of stock. Add seasoning to desired taste. Bring the contents of the pan to a boil and then turn down the heat to allow it simmer for around 10 minutes, or until the vegetable is very soft.
Gently pour into the saucepan 150ml double cream. Bring the mixture back up to the boil and the puree it with a hand blender. If desired, pour the soup through a fine sieve to create a velvety texture.
Serve hot in bowls and enjoy!
Mugs of Soup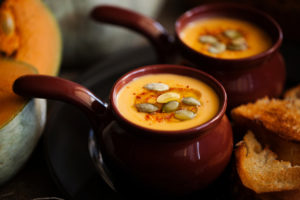 If you've got a few friends coming over and you fancied making them a few light bites for the evening, try serving Halloween soup in mugs! The best bit about this is you can prepare and cook the soup in advance, reheating it just before your guests come over and then ladling it into mugs to serve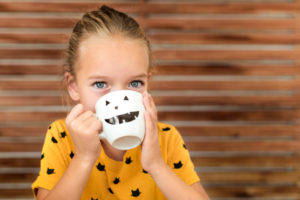 Or if you've got kids, serving scary soup in spooky mugs is a great way to get them to enjoy this healthy meal! Get a set of Halloween mugs and, instead of making them a hot chocolate, give them a few spoonsful of tasty vegetable soup.
Eyeball Soup
If you really want to make your kids scream this Halloween then give eyeball soup a try! This soup isn't dependent on the ingredients, but it's about the effect!
You Will Need:
Soup
Bite-sized Mozzarella balls
1 small jar pimiento-stuffed olives
Method:
To make the eyeballs, gently scoop out a hold in the centre of each Mozzarella ball
Cut each olive in half and then stuff into the Mozzarella ball so the curved side is staring up at you
Drop onto the balls of soup
Serve and wait for the screams!
Spiderweb Soup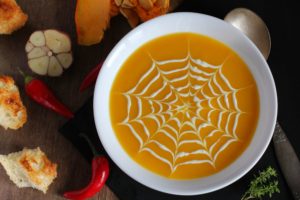 This soup is surprisingly simple but is sure to impress! The spiderweb effect works best on a dark-coloured soup, such as tomato or pumpkin.
You Will Need:
3 tbsp sour cream
1 tbsp milk
Method:
Mix together the sour cream and the milk. Pour this into an empty squeezy condiment bottle.
Gently squeeze this in circles on the surface of the soup and then drag the nozzle of the bottle from the centre to the outside to create the web effect.
Batwing Croutons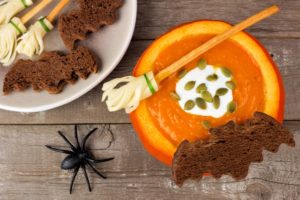 If you want to keep the soup simple this Halloween but still fancy adding a touch of the creepy to your meal, look no further than these batwing croutons! All you need to do is simply cook up your favourite soup (we recommend Campbell's very own Cream of Tomato for the blood-red colour). Then, cut some slices of bread into simple batwing shapes and toast them gently under the grill until they hold their shape.
These are just a few simple Halloween soup ideas to get your taste buds tingling and your heart racing! There's plenty more than can be done to make soup as spooky as possible, no matter how you choose to celebrate Halloween this year!
Let us know what scary soup you create and share all your best Halloween soup ideas!
Happy Halloween!