Christmas really is the most wonderful time of the year. You get to spend it with the ones you love and indulge in the biggest feast of the year. We're sure you've got some exciting plans for your Christmas dinner, but don't forget your Campbell's Soups (we recommend using a tin of condensed soup as the base for your gravy).
We believe no expenses should be spared. You should get nothing but the best this Christmas, so we've identified an easy and tasty way to make sure you have a little extra budget to put behind your Christmas feast. You can save money by using Campbell's Soup, to make quick and easy family meals, leading up to Christmas.
The average takeaway meal deal costs around £5 per person. This means it costs £20 for a family of four to get a take away for one night. The recipes below each cost significantly less than this, meaning you'll have even more to spend on your family Christmas dinner.
Gary Rhodes' Braised Rice with Sweetcorn & Broccoli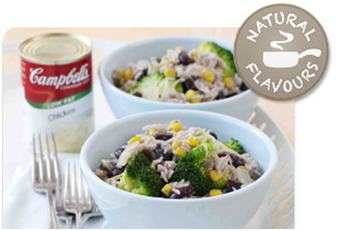 This is a meal that doesn't need meat to be full of flavour. It also allows you to spend more time with your family, as it only requires 25 minutes of cooking time.  You can feed an entire family of four for less than £5. This means you'll save an incredible £15, which covers the costs of all those pigs in blankets everyone'll be scoffing down, with change left over.
Spaghetti Bolognese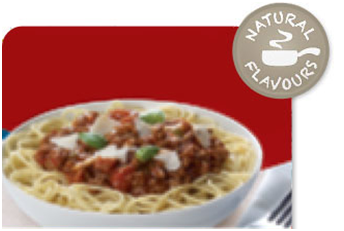 We know parents aren't meant to have favourites, but many do and it's spaghetti Bolognese. It's because of how quick and easy it is to make. Well, with Campbell's Soup, it's that much easier and tastier. Our Bolognese recipe only takes 25 minutes to cook and it produces more than enough for the whole family, in case anyone wants seconds. Costing just £6.50, you'll save a handy £13.50, which means a nice bottle of brandy will only cost you £1.50. Isn't that a result?
Gary Rhodes' Breast of Chicken with Tomatoes, Onions & Basil, Topped with Melting Cheese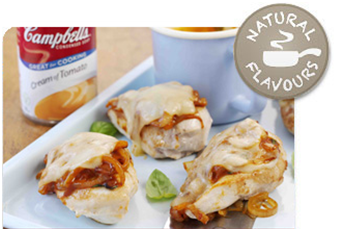 Doesn't it make you hungry just thinking about it? This succulent chicken breast covered with melted cheese is a dish that everyone will appreciate and, with a cooking time of just 20 minutes, they won't be waiting too long for it. Although it's the most expensive recipe we're suggesting, it's still cheap at just £8. The £12 you'll save with this is enough to get everything you need to make those delicious Christmas figgy puddings everyone loves.
Vegetarian Pizza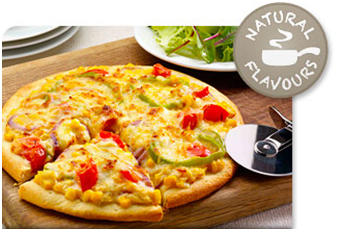 Instead of spending £25.99 on a family meal deal down at the local pizzeria, you can use Campbell's Soup to make your own delicious pizza. You won't have to wait 30 minutes for this pizza because it only takes 10 minutes to cook yourself. Coming in at a total of £6.50 you'll save a whopping £19.50, which will more than cover the cost of the ingredients for 10 classic winter trifles.
Campbell's Soup can be used in countless different family meals. The ones we've recommended above are more than just easy and quick, they're also very light on the wallet. The money you'll save with these tasty meals with your family can be spent on an incredible Christmas feast. These four family meals alone will save £60. That's enough for 2 XL turkeys (feeding 15-18 each) and three bottles of wine.
Merry Christmas from Campbell's Soup
Campbell's Soup wishes you a very merry Christmas and a deliciously filling family Christmas dinner. We're confident that you'll have a wonderful time with your loved ones over the holidays. As always, Campbell's Soup are committed to helping families get delicious meals and we want to help make sure that your Christmas dinner is the best one of the year. Think back to Christmas day when you were younger. How amazing was dinner then? Perhaps this old Campbell's Soup Christmas advert will jog your memory.